DOUG SCHULZ
FOUNDER
SCHKEE HyperCars, LLC.
I saw my first Super-Car at a very young age. My Dad brought home the 4th Mercedes Benz 300 SL gullwing imported to the US. I have been hooked on fast super-Cars ever since.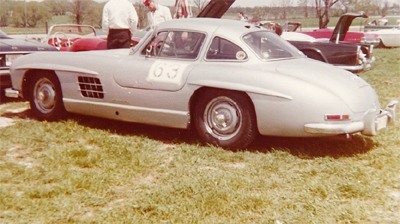 My Dad took me to the Road America race track in WS in the early 60's to see his business associate race his H modified race car. At that same race weekend I watched Paul O' Shea race a Mercedes Benz 300 SL gullwing. I started attending every race at Road America after that. In the late 60's I saw my First Can-Am race at Road America. I remember sitting at turn 12 watching Bruce McLaren and Denny Hulme driving the bright orange McLaren Can-Am race cars. I thought someday….. That series died in 1973 when Roger Penske and Porsche raced the Porsche 917-30 Can-Am race car with a 1,000HP. No one had the money to challenge that car.
I started my racing career in 1975. Before that I owned several what are now called classic Super-Cars.
Among those cars that I owned were 2 Jaguar XK120's, one was a roadster and one was a coupe. There were 2 Ferrari's, one was a GTB and the other was a Daytona. A lobster red Lamborghini Muria, a DeTomoso Mangusta, 2 Ford GT40's, #1054, #1067 and the 1967 Sebring winning Ford Mark 4 that I restored.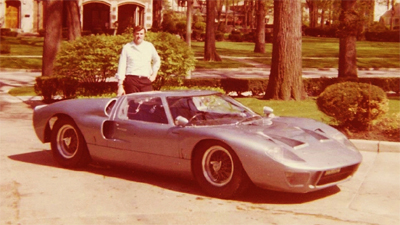 FORD GT40 #1067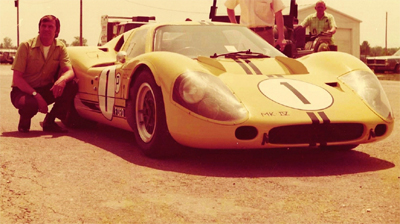 I restored this 1967 FORD Mark 4, Winner 1967 Sebring 12 hour race.
My first race car in 1975 was a Lola 342 Formula Ford. Two weeks later I purchased a 294 Lola B Sports racer. I earn my FIA profession license in 10 weeks, racing both cars every week end. I qualified for the SCCA run offs at Road Atlanta with the B car. I finished 4th in the race and was named rookie of the year for the SCCA Chicago Region.
In early 1976 I purchased a Lola Formula 5000 race car. I raced that car in the 2 Formula 5000 races at Road America in 1976.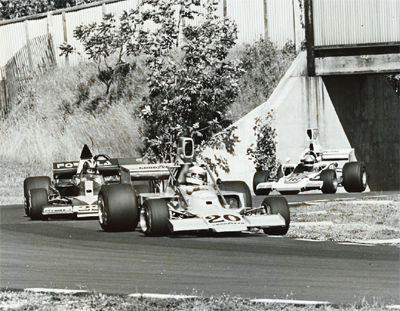 Doug racing 1976 Lola Formula 5000 race car #20
During those race week-ends I noticed that the crowds were not as large at Road America as that had been in the Can-Am days.
That gave me an IDEA.
I liked the loud Can-Am race cars better than the Formula 5000 race cars, so I designed and built a 12th scale model of a Can-Am Coupe race Car.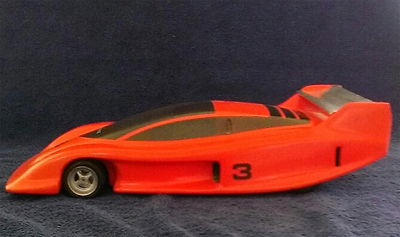 12 scale Model
In late 1976 I developed rules for a new Can-Am series with a maximum engine size of 5 liters. My idea was to keep the cost down so a small Team could compete with the big Teams. I started a North American visit to all the major race tracks in the US and Canada. I wanted to find out if the owners, managers and operators of the tracks agreed with me that a new Can-Am series would bring the crowds back to the race tracks. Without exception every track personal agreed they wanted to go Can-Am racing with me. I met with all the track promoters at O'Hara Field in Chicago in early 1977 one day before the race track promoters were to meet with SCCA about Racing Formula 5000 again in 1977.
I passed out my rules package for the new Can-Am series I designed and again showed them all the model of my Can-Am race car. I promised the promoters that I would built two Can-Am race cars for the series and would win the first Race!! They all raised their hands and said yes, when I asked them all together if they wanted to go Can-Am racing with me. We put together a Can-Am race calendar for 1977. I was not invited to the SCCA meeting the next day, however I was told by Les Grebling 0wner of the Mid- Ohio Sports Car Race track that all the promoter's at that meeting said no to another Formula 5000 1977 series, instead they all said yes to go with Doug's Can-Am Series. That Afternoon, SCCA too decided to go with my Can-Am series as well. (See article in Jacket)
We started building our Can-Am race car. First the body I designed was built, then the body was married to the chassis. Bob McKee and his Team at McKee Engineering did all the fabrication work on our first Can-Am race car and later on our second Can-Am race car. I decided to name the race car brand "SCHKEE" pronounced, SCH-A-KEE. The first 3 letters of my last name and to honor all of Bob McKee's work, the last 3 letters of Bob's last name.
The SCHKEE DB-1 Can-Am race car was born.
City-Corp agreed to be the series sponsor. The first race took place at the St. Jovite race track in Canada. The SCHKEE DB-1 won the pole position and more important as I had promised, WON the race.
Bob's shop finished the SCHKEE DB-2 race car just in time to put the SCHKEE DB-1 and SCHKEE DB- 2 in the race car trailer Friday night before the Road America Can-Am race weekend and get the cars to the track Saturday morning. A fast inspection for both cars. There was a short practice session. Tom and I drove the day glow red SCHKEE DB-1 and DB-2 Can-Am race cars around the track together just like Bruce McLaren and Denny Hulme had done in the McLaren Can-Am cars in the late 60's.
The SCHKEE DB-1 Can-Am race car was way ahead of its time.
The SCHKEE DB-1 was the first Can-Am race car with a full enclosed roll cage.
The SCHKEE DB-1 was the first race car with unassisted ground effects one year ahead of Formula one's introduction of ground effects in 1978.
The SCHKEE DB-1 was the first race car with a TV camera mounted in the cockpit.
The SCHKEE DB-1 was the first race car with vacuum formed side windows made as NACA ducts to ram air direct into the engine without causing much additional drag.
The SCHKEE DB-1 Can-Am race car is considered by many in the racing community to be one of the most beautiful race cars ever built.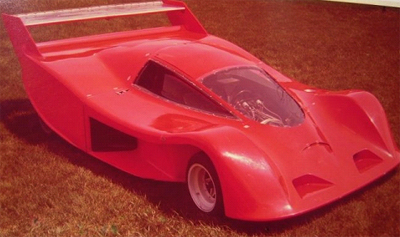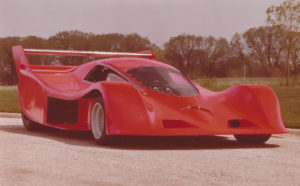 In Feb. of 1981 I purchased a 4 year old Indy car. We made many changes to the car and I named the car SCHKEE DB-3. What happened in the 90 days before the 1981 INDY 500 is another amazing story.
Most important, we were in the field of the 33 cars that started the 1981 INDY 500!!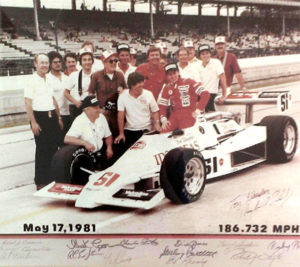 In 1983 I purchased a March Indy car to race on road course race tracks. In the La Times 500 mile race the SCHKEE DB-4 started dead last, 34th, after breaking an engine in qualifying. Our car worked through the field and finished 6th.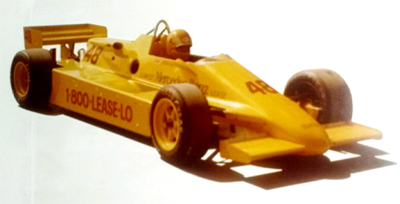 With all my racing experience and race car design work, I decided to build SCHKEE HyperCars for the road that could also be raced on the track.
SCHKEE HyperCars, LLC. Was born.
Our Team is currently working on the Prototype SCHKEE Hyper-1.